Welcome to our DNA Store Ghent
Looking for new glasses? Would you love to try on our frames? Or maybe just say hello?
We are here for you. Hope to see you soon!
Opening hours
Open from monday to saturday: 10.00h - 18.00h
Every first sunday of the month: 13.00h - 18.00h
Address
DNA Store Ghent
Brabantdam 1, 9000 Ghent
Book your appointment
Contact
Mail: storegent@odettelunettes.com
Tel: +3292866289
Wanna know more about our DNA Store Ghent?
The DNA of our glasses
The DNA Store in Ghent represents the place where Odette Lunettes are born. We wanted to create an upside-down experience, where plants and ripples all over the ceiling represent new life. When you look up at a certain spot in the store, you get a visually pleasing peek of where the glasses are created and how they 'descend' upon us.
Contrast
We chose for warm tones and earthy colors which you can find in a variety of interesting materials and foreign textures all over the store. The cool transparant plexiglass brings these materials together and provides a fascinating, complex contrast to the story. It's an extraordinary contrast between hot and cold, hard and soft, edginess and elegance, day and night.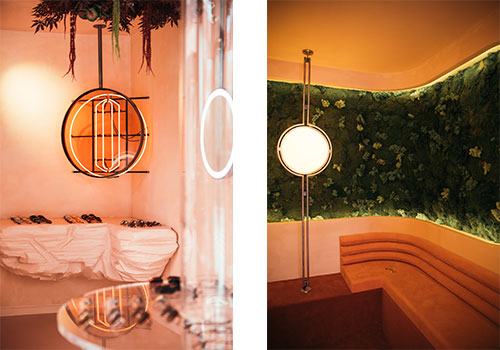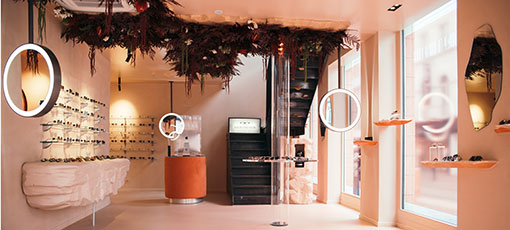 Space cave
Once you have chosen a pair of glasses, it's time to enter the Odette Space Cave. An optician will perform an eye test while you enjoy a warm and peaceful moment in this modern space. The place is full of serenity and calmness which perfectly represents the beautiful birth of our lunettes. The design was made with great attention for refinement. From a stunning golden lamp to a refreshing moss wall. From the minimalistic design of the sofa to the cosy yet glowing carpet. Every single thing is custom designed and made with the greatest of care.